Liveaboard Red Sea – BDE – Egypte, September 2024
One of the legendary diving cruises of Egypt and the Red Sea also called the golden triangle on the dive sites of Brothers, Daedalus et Elphinstone
Vertiginous walls exposed to currents which offer abundant wildlife from small to large. The BDE sites are full of beautiful gorgonian fans, colorful parrot fish, large schools of fish such as batfish, snapper, nason, barracuda, trevally.
Shark lovers will be in paradise: expect to come across a great number of different species: gray, longimanus, hammerhead, thresher, whitetip, albimarginatus and silky sharks. 2 awesome wrecks are also on the route!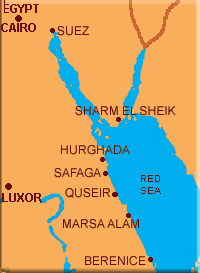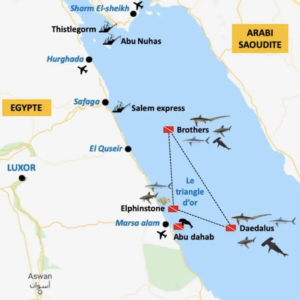 An overview of the 3 destinations:
Brothers islands: only accessible by liveaboard, the two Brothers Islands are rooted at a depth of more than 500m. Made up of 2 flat tops exposed to the currents, pelagic life abounds there. Diving sites renowned worldwide for the beauty of their walls and the diversity of underwater life. A privileged place to encounter thresher sharks, hammerheads and longimanus sharks. But also 2 beautiful wrecks: the Numidia and the Aïda 2.
Daedalus: this reef offers a multitude of diving sites. It is made up of a large flat top in the South and a drop-off to the North with an incredible abundance of anemones and their clown fish, Napoleons, magnificent corals. But also an excellent site for encountering sharks, particularly hammerheads, grays and longimanus.
Elphinstone: one of the most famous reefs in Egypt. Drop-offs at a depth of more than 100m which are full of corals and colorful fish, two flat tops, one at 25m and another one at 45m to form a magnificent arch around which schools of trevally, tuna and all types of sharks can gravitate around depending on the season .
Informations pratiques:
Advanced Open Water, or level 2, 50 dives min.

September 2024


8 days/ 7 nights- 6 diving day with 3dives/d

80-82 F/ 27/28

 °

C

Estimated budget 1300 USD without flight
Why sharing this adventure with us?
For the pleasure of sharing good times underwater and above, to be entitled to Kelly's songs to accompany your day with music😅, for briefings/bio presentations given by Kim (Marine Biologist) and depending on the number of people who would like to join us at a discounted group price!
You are interested > Send us an email on doublekdiving@gmail.com and let us know which week would suit you best here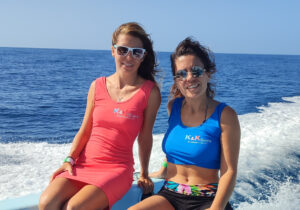 Mars 2023 Socorro Liveaboard in the Revillagigedo Archipelago, Mexico on the Quino el Guardian boat
First K&K Diving Liveaboard: a great succes, we will do others!
Incredible and magnificent pelagic marine life, exceptional quality meals, more than friendly staff on the boat, a friendly atmosphere!
Some data in numbers:
9 of our diving customers in Playa del Carmen + us 2 (Kim et Kelly)

9 days at sea

6 diving days with 3 to 4 dives per day

21 dives total

Thousands of pictures and videos

Hundreds of sharks, more than fifty Manta, whales songs in the background, dolphins and tiger sharks for the lucky ones!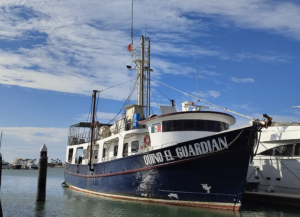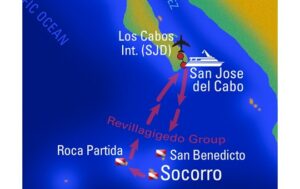 More about the destination:
The Revillagigedo Archipelago is located in the Eastern Pacific 386 km southwest of the southern tip of the Baja California peninsula. This archipelago is often described as the Galapagos of Mexico. It is only accessible by cruise and it is not possible to set foot on land during the trip! It is made up of 4 almost deserted volcanic islands: the islands of Socorro, San Benedicto, Roca Partida and Clarion around which the dives are organized.
The waters surrounding them are abundant in marine life, including a remarkable concentration of large pelagic species such as oceanic manta rays, a multitude of shark species (hammerhead, silky, white tip tiger, coral, galapagos, or even whale sharks) whales and dolphins.
The diving season in Socorro is open from November to June, the temperature oscillates between 73F and 78F between Nov-Jan, the water is cooler between Feb-May it varies from 68F to 73F. Certain species are only there during certain periods of the year: whale shark (Nov/Dec-May/June), humpback whale (January-March), there is more chance of seeing schools of hammerhead sharks April to June.
Advanced Open Water Minimum or level 2, 50 dives min

From November to June

 between 7 and 10 days

68F-78F 20-25

°

C

Estimated budget 4500 USD without flight for the cheapeast boat
Nearest airport

San Jose del Cabo

/ Los Cabos (SJD)

30 minutes away

, 2nd possible airport is La Paz (LAP) 2 hours away

Reserved for experienced divers comfortable with strong currents, Nitrox recommended.
Budget is estimated without flight but with acomodation and meals
It is recommended to book around 1 year in advance, places go quickly and the number of boats going to the area is limited
More info on the company we used can be found here: mexicoliveaboards.com. You can also contact us if you would be interested in a future trip!