A MUST for all certified divers!
Top 10 world diving
165 USD 2 tanks
Cozumel is worldwide known for its endless visibility, its spectacular and colorful coral formations and diverse marine life.
In 1961 the famous Jacques Cousteau, declared it as 'one of the best diving in the world'.
The creation of a marine park in 1996 helped preserve Cozumel's fauna and flora and offers breath-taking dives.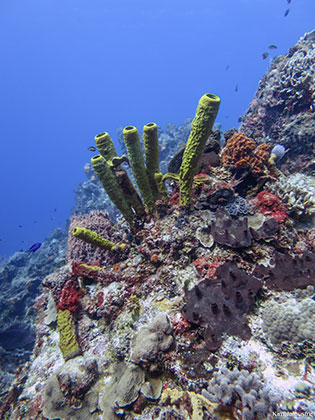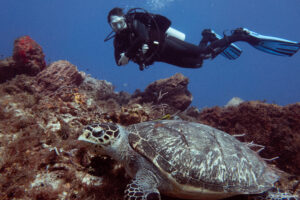 Cozumel offer an endless number of dive sites on its famous wall with amazing drop-offs, visibility of 30+ meters, an incredible blue, unique reef formations and various sponges of different colors and shapes.
In the south, the Palancar sites count with numerous tunnels and arches, you will have the sensation of literally diving into the corals.
There is also numerous dive sites on the plateau, with stunning healthy reefs, extraordinary and abundant marine life: many species of reef fish, sharks, turtles, eagle and stingrays, school of jack fish, barracudas, lobsters as big as your fins!
Keep your eyes open to find the endemic splendid toadfish, only found here and nowhere else in the world.
Ideal place for a biology dives and learn about fish or benthic forms!